Indigenous peoples have lived in this region since time immemorial.  Wenatchee River Institute today is located on the ancestral homelands of the P'squosa (Wenatchi) Band.  The Wenatchee River Institute offers this acknowledgement as a step in honoring the original stewards of this land and to call for further learning and action.
---
Wenatchee River Institute Environmental Learning Center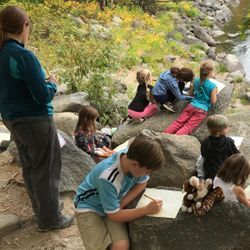 Located just downstream from the confluence of the Wenatchee and Icicle Rivers, the nine-acre Barn Beach Reserve, owned and operated by the Wenatchee River Institute, is located in a spectacular setting that features accessible walking trails with panoramic views of the Wenatchee River and the Stuart Range. 
Visitors are always welcome at the Reserve.  We are just a short walk from downtown Leavenworth, and a world away from the hustle and bustle of Front Street.  The Reserve and neighboring Enchantment Park protect over 50 acres of diverse habitats ranging from Ponderosa pine forest to riparian habitats.
Four eBird hotspots exist on the Reserve. Take a walk around the property, write down the birds you see, and upload to the site to contribute to the community science project.
See a map of Barn Beach Reserve Campus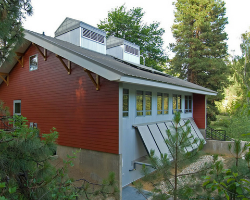 Red Barn Learning Center
Our Red Barn Learning Center is a model of energy efficiency and solar design. With photo-voltaic panels on the roof generating electricity and solar hot water providing heat for radiant floor heating, this building is as much a teaching tool as it is a place to learn.
In the Red Barn, we host youth, adult, and community education programs.  It is well appointed to accommodate everything from science labs to art classes, lectures, films, acoustic music performances and more!
Historic River Haus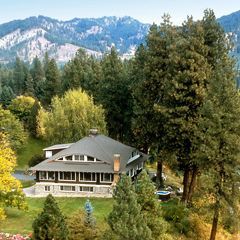 Hand built over a century ago— this unique, iconic, and historic home embodies the history of settlement in the town of Leavenworth. Today the historic building is known as the "River Haus" and is the primary location for the Wenatchee River Institute administrative offices. We also share this space with Upper Valley MEND and the offices of the Upper Valley Museum at Leavenworth. 
E. Lorene Young House & Property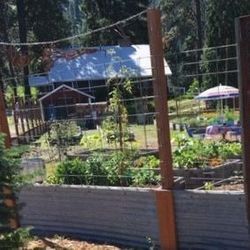 The E. Lorene Young (ELY) Property sits adjacent to our eastern border and was acquired through a partnership with the Chelan-Douglas Land Trust.  E. Lorene Young left a legacy by donating her property with the vision that her beautiful 3-acres of waterfront remained undeveloped. 
The ELY House is used primarily as a program space for Mountain Sprouts, a non-profit providing the Upper Valley with outdoor based early childhood education.  The lot north of the ELY House has become an active Community Garden.