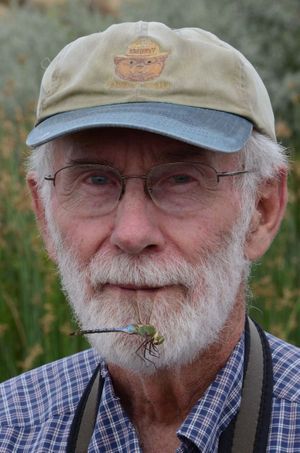 We are excited to host Dennis Paulson as the keynote for Bird Fest 2020!
Dennis will present on Saturday evening on The Wonderful Adaptations of Birds.
Dennis Paulson grew up in Miami, exposed to subtropical nature in all its glory while southern Florida was still largely unspoiled. He received his Ph.D. in Zoology from the University of Miami in 1966 with a study of the dragonflies of southern Florida, and shortly thereafter he moved to Seattle, where he has lived ever since. He retired as the Director of the Slater Museum of Natural History at the University of Puget Sound, where he also taught in the Biology Department. Dennis has taught at three universities and continues to teach adult-education courses in many venues. He has also led nature tours and traveled on his own to all continents, and he has studied and photographed dragonflies and birds worldwide and published over 75 scientific papers on his favorite animals. He is an avid nature photographer, with many photos published in magazines, books and interpretive displays.
Dennis's published books include Dragonflies and Damselflies of The West; Dragonflies and Damselflies of the East; Dragonflies & Damselflies; A Natural History; Shorebirds of North America: The Photographic Guide; Shorebirds of the Pacific Northwest; Exotic Birds; and Alaska: The Ecotravellers' Wildlife Guide. Beyond these interests, he is a well-rounded naturalist with a broad knowledge of plants and animals of the world.