Western Wildlife Outreach presents Grizzly Bear & Wolf Recovery in the Cascades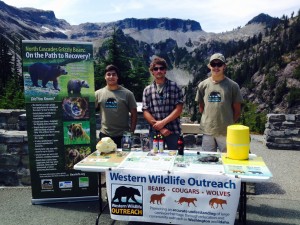 Doors open at 6:30pm for community social and no-host refreshments, presentation begins at 7pm.
Western Wildlife Outreach started out as the "Grizzly Bear Outreach Project" or GBOP, an independent science-based, non-advocacy, community education project in the North Cascades of WA in 2002. From there, their work expanded to the Selkirk Ecosystem of northeastern Washington and northwestern Idaho. These two areas were identified by scientists working to implement the Endangered Species Act as having the best chance for recovering grizzly bear populations in Washington.
Today, Western Wildlife Outreach has expanded their focus to include maintaining healthy populations of other large carnivores, namely black bears, cougars and gray wolves throughout Washington in response to the needs of the communities we serve. The information WWO shares is science-based and factual, allowing people to gain a clearer understanding of these elusive creatures.