3rd Grade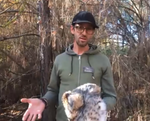 3rd Grade
Masters of Disguise and Display
Next Generation Science Standard 3-LS4-2. Use evidence to construct an explanation for how the variations in characteristics among individuals of the same species may provide advantages in surviving, finding mates, and reproducing.
Master of Disguise and Display: A short educational video with suggested at home activity and/or set of questions to accompany the video.   
Design a 'Master of Disguise' camouflaged animal: An "at home" activity packet with instructions to do a simple activity at home, no computer or Internet access needed.   
Camouflage Pamphlet: An extension activity that could help challenge students who need additional learning opportunities.  
Join WRI education staff on our campus for a synchronous 30 minute virtual field trip via Zoom. If interested in this option, we would set up a time that works with your classroom and/or team.