5th Grade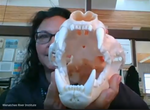 5th Grade
Web of Life
Next Generation Science Standard 5-LS2-1: Develop a model to describe the movement of matter among plants, animals, decomposers, and the environment. 
Coyote Eats the Sun: A short educational video with suggested at home activities and/or set of questions to accompany to video.  
Build your own Web of Life: An activity packet with instructions to do a simple activity at home, no computer or Internet access needed.  
Web of Life Experiment: An extension activity that could help challenge students who need additional learning opportunities. 
Join WRI education staff on our campus for a synchronous 30 minute virtual field trip via Zoom. If interested in this option, we would set up a time that works with your classroom and/or team.