Fall Camp: Oct 19 & 21 (Grades K-5)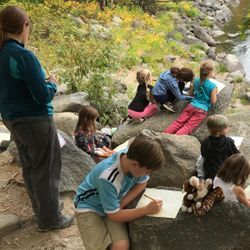 Fall Camp: October 19 & 21 (Grades K-5)
12:00pm-5:00pm
What:
Join small groups of campers and Wenatchee River Institute staff for a new version of camp! We will spend our afternoons outdoors, exploring Wenatchee River Institute and the surrounding park, leading us through forested habitats, along the river, and through grassy meadows. Participants will investigate and learn about the world around us, play fun games, and do art activities. Campers will be divided into groups based on ages (age divisions will depend on ages of campers each week).
If your camper needs to be in live school sessions during camp time, we can accommodate that.
Cost:
We are experimenting with a new fee structure for these camps: PAY WHAT YOU CAN. We know that COVID has had a financial impact on many families, and we hope this makes camps as affordable as possible to all families. It is our hope that some families will have the ability to pay a little more to offset the costs for families who are struggling financially. When you register, there is a box to type in the amount you can pay.
Extra Hours:
Additional care hours are being offered to extend camp time one hour earlier and later for families who are interested. Pre-camp care will take place 11:00am-12:00pm and post-camp care will take place 5:00pm-6:00pm. The cost is $15 for pre-camp care and $15 for post-camp care. These can be added to your ticket when you sign up.
How to Register:
Register for each week you'd like to attend. Registration for each week is found on the first listed day of camp for the week.
Safety Precautions:
The ability to offer these camps will be dependent on Chelan County staying in at least Phase 1.5 in Safe Start WA. Increased social distancing and hygiene will be put in place. Camp will take place primarily outdoors, and campers and staff will wear masks. Each camp group will be based at different locations throughout our campus and will not interact.