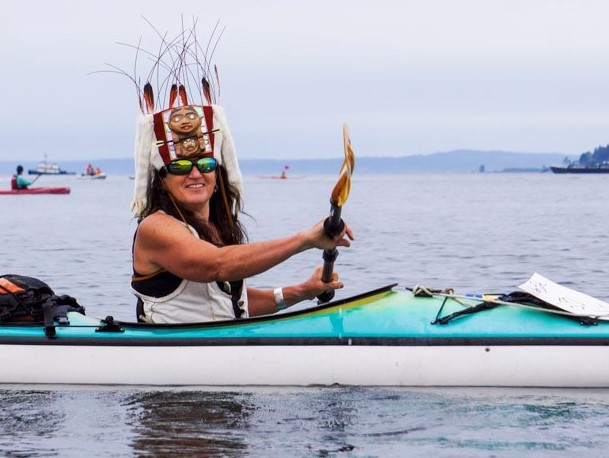 Wenatchee River Institute's Red Barn Speaker Series kicks off Wednesday, Sept. 12th. The 2018/19 season features dynamic speakers, authors, scientists and activists sharing their stories of people, place, adventure, and the natural world.
Join us during scheduled Wednesdays between September and June in the Red Barn at Barn Beach Reserve, 347 Division Street in Leavenworth. The evenings promise to enlighten and inspire through presentation, film, and discussion, all the while exploring a wide variety of topics.
This season you will hear from a kayaktivist and adventurer, scientists on butterflies and songbirds, an author on courageous living, a specialist on how food choices affect our health, the planet and animals. You will be taken on a digital landform tour of the Eastern Cascades, local farmers will share their experiences with sustainable, organic gardening, and wildlife biologists will talk about the return of grizzlies and grey wolves to the Cascades. More speakers to be announced.
Partnering with Leavenworth's A Book for All Seasons, Sept. 12th will feature Irene Skyriver, author of Paddling With Spirits and recipient of a 2018 Nautilus Book Award Silver Medal. Inspired by her own spirit of adventure and the stories of her native coastal ancestors, Skyriver celebrated her fortieth year with a solo kayak voyage, paddling from Alaska to her home in Washington's San Juan Islands. 
During her journey she encountered harsh weather, wolves, bears, whales, and the wild beauty of coastal waters, and found herself reflecting on her own life and the lives of the many people she met along the way. "It reaffirmed my belief in the love and goodness of people, the kindness of everybody. Passing fishermen would sometimes throw me an orange or a fish," said Skyriver.
Skyriver is aware that people often only protect the places they know and she is grateful that the journey expanded her knowing. The current plight of killer whales (or orca) inspired her to kayaktivism, bringing awareness to the dangers of oil tankers and refineries in and around the Puget Sound. "People are up and moving all of the time, they have no sense of a place's natural beginnings," fears Skyriver.
On Lopez Island, Skyriver and her family grow and raise 85% of their own food. She calls it a sweet life filled with community and engagement with the Island's youth. Yet she also fears this way of being –living simply, needing less–  is threatened by increasing tourism and development.
Skyriver describes family escapes to the northwest corner of Vancouver Island. There, they set up a tent and frequently awaken to bears and fresh wolf tracks. Skyriver encourages us to protect sacred nature, as earth is our mother and we have no other place to run to. She wants us to protect father sky and to become kin with the wild outdoors.
Join us for our Red Barn Speaker Series; doors open at 6:30 PM, presentations begin at 7:00, admission by donation thanks to our sponsors: Icicle Brewing, A Book for All Seasons, Wild Birds Unlimited and The Cheesemonger. For series information visit the Community Experiences Page. Wenatchee River Institute is an outdoor learning center connecting people and communities with the natural world.