Field Days...a school program, outside
This is our flagship program, developed over ten years ago to help our local schools improve students science education. At the same time we began our work to offset the effects of Nature Deficit Disorder, where kids just don't get outside enough. Our program connects children to nature through hands-on scientific exploration, cultivating curiosity and life-long learning for the next generation of stewards of our planet.
---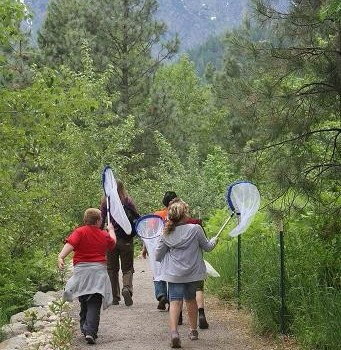 "I had the best time of my life going to [WRI and] Barn Beach Reserve and doing all of those amazing activities with you guys. You made me want to take care of nature more..." - Calvin Wilder, 4th Grader at Osborn Elementary School
---
Our curriculum, facility, and location are a science teacher's dream! Students love our state-of-the-art green classroom equipped with microscopes, snowshoes, kick nets, live animals, and much more. They also enjoy direct, hands-on learning experiences outdoors in the natural environment of Barn Beach Reserve, our 9-acre nature preserve featuring a rich diversity of plant and animal species on the banks of the Wenatchee River.
---
River Exploration

Growing learners