Barn Beach Reserve Outdoor Learning Center
Located just downstream from the confluence of the Wenatchee and Icicle Rivers, the Barn Beach Reserve Outdoor Learning Center is located in a spectacular setting that features accessible walking trails with panoramic views of the Wenatchee River and the largest granite batholith in North America which makes up the mountains of the Stuart Range.
Visitors are always welcome at the Reserve, our nine-acre nature sanctuary bordering the Wenatchee River and Leavenworth's Waterfront Park. We are just a short walk from downtown Leavenworth, and a world away from the hustle and bustle of Front Street.
The Reserve and the adjacent greenbelt protect over 50 acres of diverse habitats ranging from upland ponderosa pine forest, to riverine and riparian habitats that include Blackbird Island, a sanctuary for humans, plants and animals, and a popular stop on Audubon's Great Washington Birding Trail.
The property is owned, operated and maintained by the Wenatchee River Institute, we share space in the River Haus with two other local nonprofits: the Upper Valley Museum, and Upper Valley MEND.
Download a list of area plants (PDF).
Download a list of area birds (PDF).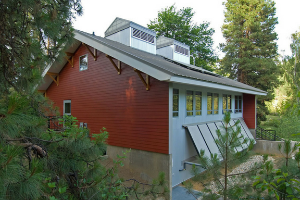 Red Barn Learning Center
Completed in 2008 this "green-built" learning center, is a model of energy efficiency and solar design. With photo-voltaic panels on the roof generating electricity and solar hot water providing heat for radiant floor heating, this building is as much a teaching tool as it is a place to learn.
The Red Barn Learning Center serves our campus as the primary indoor space for our Youth Education Program. It is well appointed to host everything from science labs to art classes, lectures, films, acoustic music performances and more! 
See a map of the Barn Beach Reserve campus
Historic River Haus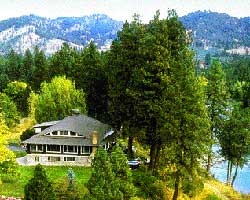 Hand built over a century ago and 9,500 square feet— this unique, iconic, and historic home embodies the history of settlement in the town of Leavenworth. During Leavenworth's timber era, it was built in 1903 by the Lamb-Davis Lumber Company, operator of the mill just above present-day Blackbird Island.
Later, the local banker, R.B. Field and his family, resided here raising champion Arabian horses at the Bent River Arabian Horse Ranch. The barns for the horses were located just below the house and is what gives the name "Barn Beach" to our location. During the local transformation period when Leavenworth began to embrace its Bavarian theme, the Saunders family owned and operated a fine bed and breakfast here known as Haus Lorelei. 
Today the historic building is known as the "River Haus" and is the primary location for the Wenatchee River Institute administrative offices.
Open seven days a week for visitors, the building is still in beautiful shape and currently serves as the home for the Watershed Art Collection, and the Upper Valley Museum (open Thurs-Sun).
Read more about the history of the reserve. 
E. Lorene Young House & Property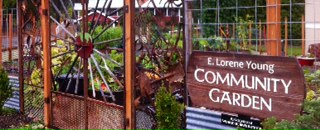 The E. Lorene Young Property sits adjacent to our eastern border and was left to the Chelan-Douglas Land Trust in 2008. Lorene did not want to see her beautiful three acres of waterfront developed, and left specific instructions on it's use. We have partnered with the Land Trust and become the stewards and tenants of her unique property.
Her home is used primarily as a program space for our after-school and summer camp programs, and the extra lot to the north of her home has become a beautiful and active Community Garden. This would have made Lorene very happy because she did not want to see that lot "turned into a parking lot". We are thankful for the generosity of Lorene and her vision.
---
You are welcome to use our facilities.
We are a busy campus, but we also like to share. If your group or organization has a need for space for an event or program you would like to host please let us know. Rentals will be based on availability, size of group and time.
We welcome the entire community to enjoy the reserve's natural gifts, while respecting wildlife, our facilities, and other users. For more information Contact Us