February 23rd E-NEWSLETTER
Snowshoe Strolls

TOMORROW, February 24th

Saturday, February 25th

This is the LAST weekend to snowshoe with WRI! Walk with naturalists through winter wonderland at the Leavenworth National Fish Hatchery. You will learn about native wildlife and ecology and the history of Leavenworth with many scenic, snowy views along the way.

Red Barn Event:

Human-Black Bear Interactions & What to Do

Wednesday, March 1st

7:00PM-8:00PM

Join wildlife biologists to hear more about human-black bear conflicts in small towns, including here in Leavenworth, and what you can do to mitigate these conflicts. The evening will begin with a short presentation followed by questions for a panel of wildlife experts.
Wolves and Wildlife Dynamics in the Methow Valley and Beyond

Tuesday, March 7th

7:00PM-8:00PM

Virtual

Join WRI and the Methow Conservancy to learn more about the Washington Predator-Prey Project and their work. Four researchers will share their preliminary findings from their research to understand how wildfires, human activity, and the return of wolves are shaping our local ecosystem.

March Beginner Bird Walk

Wednesday, March 8th

8:00AM-9:30AM

WRI's FREE Beginner Bird Walks happen on the second Wednesday of every month! Join us for as many as you can. You'll walk around the WRI campus with knowledgeable WRI staff. All birding experience levels are welcome. Need binoculars? We have loaners!
Volunteer Training:

Youth Education

Wednesday, March 8th

9:30AM-12:30PM

WRI is holding a Volunteer Training for those who are interested in volunteering for youth education programs this spring! This is an optional training designed for new volunteers and also serves as a good "refresher" for more seasoned volunteers. RSVP below!

FREE Community Seed Swap

Thursday, March 9th

5:00PM-6:30PM

It's time to start planning garden and planting seeds indoors! Join WRI for a community seed swap. If you have seeds to share and trade - great! If you don't have seeds but are interested in gardening and getting seeds to get you started - great! You'll also learn more about registration for WRI's E. Lorene Young Community Garden.
Nature Photography Workshop

Sunday, March 12th

9:00AM-12:00PM

This workshop will cover the fundamentals of making nature photographs and will provide you with the skills to make amazing images of what you love. This workshop is geared toward novice photographers, but all are welcome to attend to improve their skill set.

Red Barn Event: Indigenous Roots & Reparation Foundation

Wednesday, March 15th

7:00PM-8:00PM

Join WRI in welcoming the chair and board members of local nonprofit, Indigenous Roots & Reparation Foundation (IRRF). IRRF was established in 2021 to preserve history, culture, traditions and language through education and advocacy. Come learn about the importance of their work!
Under the Surface with Bird Bones and Skeletons

Tuesday, March 21st

6:00PM-7:00PM

Virtual

Learn about bird skulls, beaks, eyes, wings, legs, feet, and skeletal structures with naturalist, David Lukas. Many of these features are hidden by feathers, yet bird bones and skeletons uniquely shape every aspect of what we see when we watch birds. You'll come away with a new understanding and appreciation for the hidden mechanics of how birds eat, sleep, and move.

Introduction to Wildlife Tracking Class

Saturday, March 25th AND Sunday, March 26th

WRI invites you to a weekend introduction to the language of wildlife tracking with Adam Martin. Throughout the weekend, you'll gain a basic understanding of how to identify and interpret the commonly left tracks and sign of the birds, mammals, and insects of our region.
Thank you to our Community Education volunteers for helping out during Snowshoe Strolls in the last two weeks: Diane Hansen, Beth Beck, Sharmen Dye, Mark Weick, Mary Austin, Nancy Dunn, Karen Haire and Jeremy Howell. Team Naturaleza also joined us on Saturday. You can read about that experience here.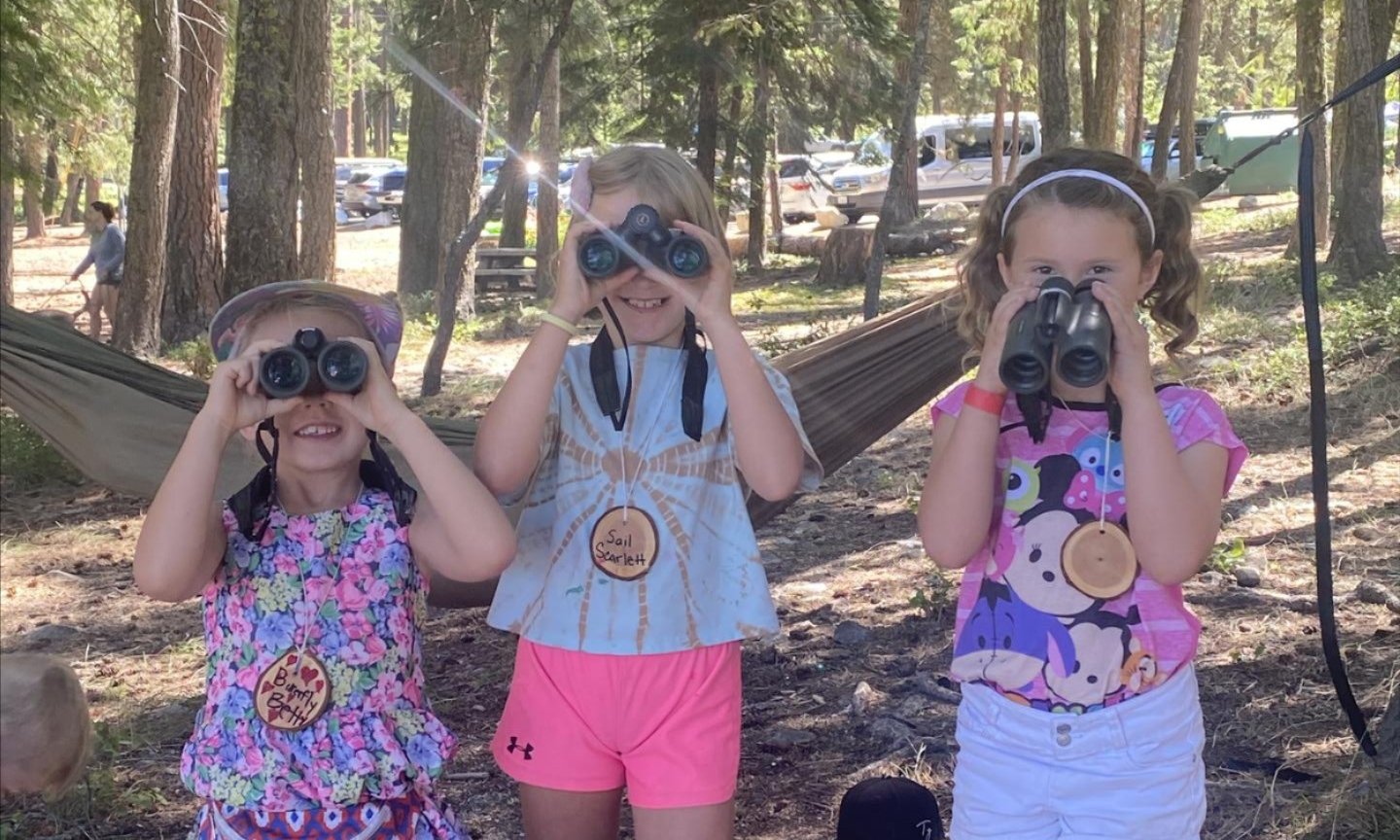 Spring Break Camp (K-3): April 3-7
Registration is OPEN! To learn more and register, click here.
Summer Camps (entering grades 1-9): July & August
Reminder: WRI is planning to pilot a lottery system for summer camp registration. Our hope in using a lottery system is to offer more equitable access to WRI Summer Camps and to alleviate stress around registration.
The schedule of summer camps will be released before the lottery form opens next week. There will be a Special Edition E-News going out on Wednesday, March 1st with further details and a link to the form. The form will become available at noon.
Campers can enroll in one week of camp through the lottery system. If there are spots in camp after the lottery, those will be open to everyone through general registration. Entering the lottery does not guarantee a camper a spot in summer camp.
There will be no priority given to those who filled out the form first. All forms filled out between March 1-12 will be treated equally. There is no rush to fill out the form as long as it is submitted by Sunday, March 12th at 11:59pm.
Important dates:
March 1-12: Lottery form available
March 13-17: Process lottery and notification of results
March 17-27: Accept and register for spots offered through the lottery
March 27: Remaining camp spots will open for general registration in the evening
Traveling Naturalist Program
Over the last two months, WRI has visited all 26 fourth and fifth grade classrooms in the Traveling Naturalist in the Classroom program. All 4th grade classes have completed their fifth and sixth lessons and 5th grade classes had a classroom visit AND a field trip! Read some highlights below.
Thanks to our grant provider for this program, No Child Left Inside, 5th grade students from 12 classrooms across North Central Washington were able to get a second field trip this school year! For their winter field trip, most students came to WRI; students from Brewster Elementary visited either Bridgeport or Lake Chelan State Parks. During their field trip, students went on an exploration hike on snowshoes searching for wildlife tracks and winter adaptations. It was ~90% of students' first time on snowshoes! They also learned about and looked at snow crystals and calculated the amount of water in the snow. Along with their field trip, 5th grade students got a classroom visit. In this lesson, students had an introduction to animal tracks.
January and February meant two more lessons for 4th grade students. In January, students learned about the subnivean zone, the habitat that exists under the snow but on top of the ground. They made a 3D art project showing the different layers under the snow. In February, students got an up close look at birds by looking at bird skins from a collection borrowed by Wenatchee Valley College. They learned about different field marks that helps in identifying birds in the field. This lesson gave them an introduction to birds for their field trip next month.
Thank you to our Youth Education volunteers for helping out at Field Days the last two weeks: Tim Abel, Christine Trigg, Gina Westrich, Mary Austin, Karen Haire, Annette Jouard, and Kay Lisch.
SUBMIT YOUR ART: Bird Fest Youth Art Contest
We are approaching the deadline to submit art for the Bird Fest Youth Art Contest! Students will have the chance to win a prize and have their art featured on the 2023 Leavenworth Spring Bird Fest poster.
To participate, you must:
be in grades K-8

have a bird focus in the art piece (preferably a bird that can be found in North Central Washington)
submit art by Monday, March 6th at 12pm*
Check out the 2022 Bird Fest Youth Art Gallery from last year's contest. There were 127 submissions!
*If you can't submit your art online, you can drop off your art at WRI or mail to us at PO Box 2073 Leavenworth, WA 98826. It must arrive by the March 6th.
We are hiring Summer Camp Educator Interns!
Join WRI's summer camp team! The Summer Camp Educator Intern position is an opportunity to learn under the supervision and guidance of experienced environmental educators. In this role, interns will assist with the planning and delivery of WRI Youth Summer Camps from mid-June through mid-August. This position is responsible for the safety, enjoyment, and education of summer camp participants, primarily in grades 1-6. WRI Summer Camps are structured to spend their days outdoors. The Summer Camp Educator Intern will work 32-40 hours/week. Specific start and end dates will be determined based on intern availability and school calendar.
To learn more about the position, visit the link below and read the full job description and qualifications.
Thank you to our donors from the last two weeks!
Randy and Marge Zerger
The Suites on Main
Karen and Curt Haire - Sustaining
Candace and Chuck Egner - Sustaining
Diane Patterson and David Stoller - Sustaining
Kamuron Gurol - Sustaining
Tracy and Ben Brulotte - Sustaining
Obertal Inn & Townhomes
Amazon Smile
Dave and Pat Notter - Sustaining
Cascade Pedicab LLC
Mike West Leavenworth Realty
The Oil and Vinegar Cellar
Dave and Nancy Bartholomew - Sustaining
Lisi Ott - Sustaining
Icicle Valley Photography
South Restaurants
Wenatchee Naturalist
Visconti's Italian Restaurant
Colchuck Consignment
Alpen Chalet, Too!
Our Contact Information
*{{Organization Name}}*
*{{Organization Address}}*
*{{Organization Phone}}*
*{{Organization Website}}*

*{{Unsubscribe}}*