Session 2: Nature Trek K-4th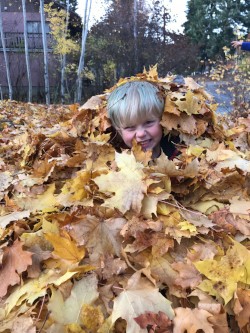 Session Two: November 15, 29, December 6 and 13. Thursday nature trek is for kids in K-4th.
This session our theme is The Ever-Changing Seasons. We will be joined by our very own naturalist Rachel Bishop. With over 10 years of environmental education she is excited to lead activities and games with the kids, learning about and exploring the signs of the coming winter as our forest along the river transforms.
For registration please select the first day of this session. Limit of 10 students.
Refund & Cancellation Policy: Program fee is refundable ONLY if a cancellation is made 2 weeks prior to the start of camp, minus a $20 non-refundable administrative fee. Withdrawals after this deadline forfeit the full registration fee. If we are able to fill your space with someone from the waitlist, or if you know someone who would like to take your place, you will receive a full refund minus a 10% processing fee. Membership fees are non-refundable. Although we rarely need to do so, we reserve the right to cancel a program. In this case, you will receive a pro-rated refund for canceled camp days.