Cascade Medical Foundation Art and Garden Tour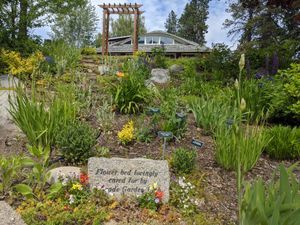 The Wenathcee River Institute gardens will be featured in the art and garden tour this year! Come see our 7 beautiful gardens and others around the greater Leavenworth area.
The Cascade Medical Foundation will have 10 diverse gardens for you to view, up on the Ski Hill loop, out on the Icicle and North Road and close to town, including partnering with Wenatchee River Institute, Sleeping Lady and Wedge Mountain Farm!
There will be artwork for sale by several local artists at most locations as well. You can enjoy viewing their beautiful pieces and chat with them about their process and inspiration. We hope you'll consider supporting these very talented artists!
You can stroll through the gardens at your own pace and in whatever order you choose. Also, you can enjoy some treats from our partners -- Silvara and Icicle Ridge Wineries wine tastings and a coffee cart.
The ticket price is only $20 and goes toward our campaign for ambulance safety equipment. Tickets can be purchased online (https://cascademedicalfoundation.org/fundraisers/home-and-garden) and at each of the homes.
To add to the fun, we'll be hosting a Virtual Auction of local art. This will begin a week before the Tour, and close right after the tour. Our artist friends are all donating a piece to help us raise money for our campaign. Click the link below to check out the Virtual Art Auction here.