Red Barn Event: Beta Hatch - Insect Entrepreneurs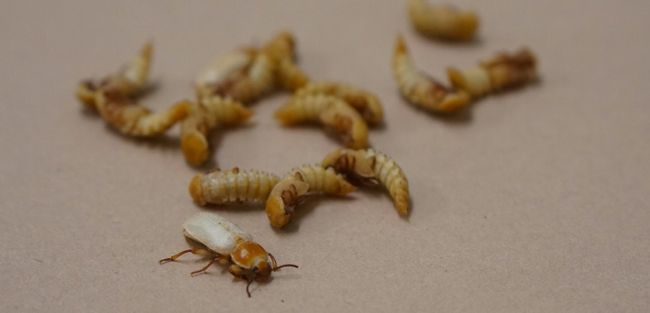 Join us to learn about our valley's very own mealworm hatchery, combating our problem of food production and waste!
By 2050, the world will need to feed 10 billion people. Today, 30% of crops feed meat, meaning feed production competes with food production. Feed markets are global while supplies are local. Beta Hatch is industrializing insect agriculture here in the Wenatchee Valley to solve these problems. Mealworms, we like to say, are a super bug, digesting waste that ordinarily has low or no value. Our insect-protein production platform converts mealworms and their waste into high-value proteins, oils, and nutrients for agriculture. The opening of our flagship facility in Cashmere, WA marks the establishment of North America's largest mealworm hatchery, producing insect protein and organic insect manure (frass).
Doors open at 6:30pm for community social with local beer and wine available for purchase. The presentation begins at 7:00pm.
Free event with a donation basket at door.
Since these events are now indoors in close quarters, only people who are vaccinated for COVID-19 (regardless of eligibility) may attend. We still ask that you wear a mask. Thank you for following this honor system.
Windows will be open during the event (along with an air purifier operating), so please bring a layer to keep you warm.
Speaker Bios:
Aimee Rudolph joined Beta Hatch in February, 2020 as VP of Business Development at Beta Hatch, where she is developing markets for insects as a sustainable, alternative ingredient for animal feed. Aimee has over 18 years of broad career experience in business development, sales, and quality assurance with companies ranging from startups to Fortune 100 corporations. She spent 14 years with 3M, managing business in industries including biotechnology and pharmaceutical manufacturing, and food and ingredient production. Aimee is certified in Lean and Six Sigma and has coached C-level executives in communication and leadership development. Aimee has a B.S in Animal Science and an MBA, both from Colorado State University.
Matthew Harband graduated from the University of Washington, Seattle with a B.S. in biology, a minor in entrepreneurship, and a sales certificate. His passion for sustainability in business led him to an internship with Beta Hatch during his senior year. Upon his 2021 graduation, he joined Beta Hatch full-time as Business Development Specialist, where he is focusing on developing markets for mealworm frass.