Snowshoe Stroll at WRI
Register Now
Registration is OPEN until time of event, unless walk is full.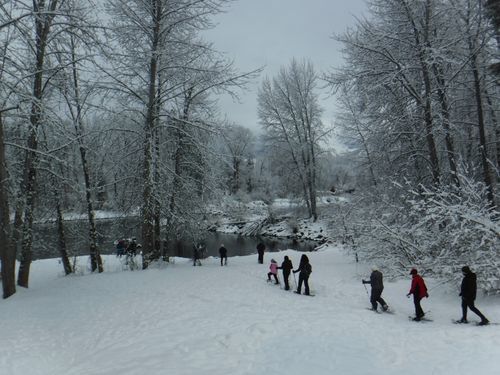 Join the Wenatchee River Institute for a two-hour snowshoe stroll with our knowledgeable naturalists. Walk with us through Waterfront Park as the land turns white and the temperatures drop. You will learn about the natural and cultural history of Leavenworth with many scenic views along the way! What signs do we see along the trail that tell us what animals were there? How do the plants and animals survive winter?
Snowshoes provided! Trekking poles not provided.
Difficulty level: a 'walk in the park' (beginner level)
Not ADA accessible due to non-plowed trails
Limit of 13 participants - Registration required
Thursdays 10:00AM-12:00PM
Meet at 347 Division Street in Leavenworth
General Admission --- $5
Free for children 5 and under
For programs that are fully outside, we suggest that participants are vaccinated for COVID-19, though this is not required. We ask that you wear a mask during check in and while using the restroom.