Scientific Illustration Class: Drawing a Rose Petal with a Dew Drop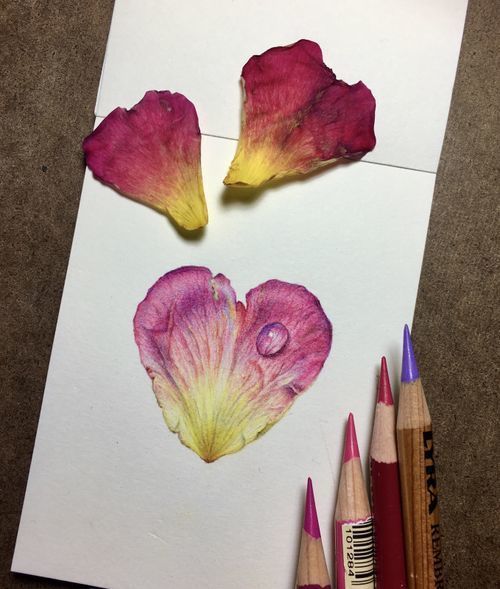 Roses are one of the most popular flowers and bloom starting late spring throughout the summer. Rose petals are a great subject as they offer us delicate veins, elegant form, and a variety of gorgeous colors! In this two-hour class, learn how to draw a rose petal learning to see underlying colors and the various colored pencil techniques to build form and colors. We will also learn how to draw a dew drop on the petal. The dew drop will make your rose petal look even more attractive. Experienced botanical artist and teacher Crystal Shin will demonstrate as you draw along. Feel free to bring your rose petal or own photograph to draw, otherwise sample photographs will be provided.
All levels of experience are welcome, from beginner to expert. Come along and enjoy drawing a rose petal with colored pencils!
Cost: $55- nonmember, $48 member
Class limited to 16.
Materials:
-Colored pencils. At least a set of 24 or 36 artist grade colored pencils would be ideal, but bring colored pencils that might match to the colors of rose petals: reds, oranges, pinks, yellows etc.
-Artist quality drawing paper such as
o Strathmore Bristol 300 or 400 series smooth surface paper
o Strathmore Bristol 300 or 400 vellum surface paper
o Hot pressed watercolor paper
o Any good quality drawing paper if not above.
-Graphite pencils
-Pencil sharpener
-Eraser: good quality eraser (e.g. rectangle eraser, pen click type eraser, kneaded eraser etc.)
-Magnifying glass (optional)