Red Barn Event: Beautiful Wounds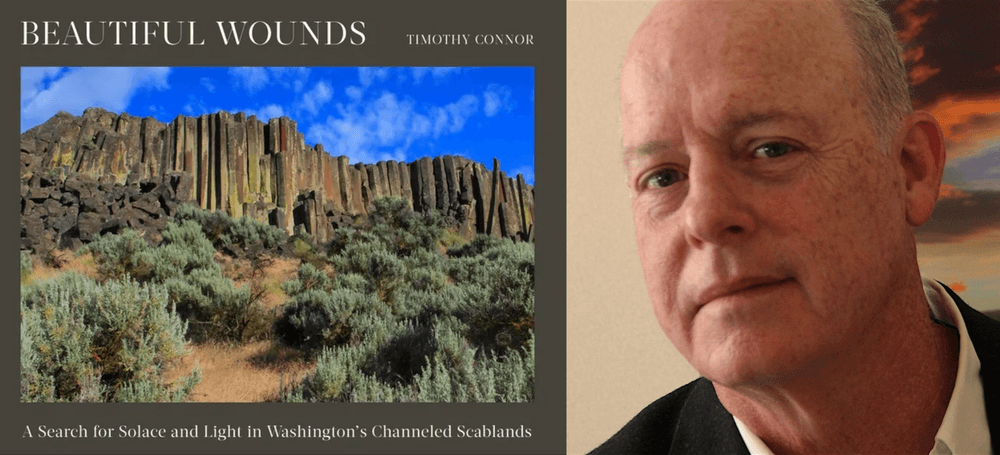 Zoom link: https://us06web.zoom.us/j/87804170323
Carved and scoured by catastrophic floods at the end of the most recent ice age, the Channeled Scablands of eastern Washington unfold with rugged beauty and the diversity of their natural features and wildlife habitat, including braided waterfalls, sprawling canyons and cinematic palisades. With Beautiful Wounds, writer/photographer Timothy Connor leads us on a lush photographic journey into the origins and sanctum of one of America's most enigmatic natural treasures. On one level, the trek through history and terrain is a deeply personal sojourn to ward off depression in the wake of heartbreak. Yet the broader dimensions capture the light, texture and wonder of nature as time unfolds in quiet acts of recovery, pierced by birdsong and the distant howls of coyotes.
Timothy Connor is a national award-winning journalist and nature photographer based in Spokane. Born at Camp Hanford, WA in 1956, Tim was named the outstanding graduate in journalism from Washington State University in 1979. His investigative reporting on the Hanford Nuclear Reservation's environmental and public health hazards in the early 1980s led to a decade of successful public activism to bring the nation's nuclear weapons plants under stricter public scrutiny and regulation. He has also been deeply involved in efforts to reform police accountability and to protect vulnerable communities in Washington from air pollution created by mass agricultural burning.
As a journalist he has earned multiple regional and national awards from the Society of Professional Journalism for both his print and broadcast reporting. He has also been recognized (2011) by the Washington State Bar Association for a career of excellence in reporting on legal issues.
Prior to Beautiful Wounds, he authored (with Major Margaret Witt) "Tell: Love, Defiance and the Military Trial at the Tipping Point of Gay Rights" (2017), the story of Major Witt's successful legal battle that ultimately resulted in Congressional repeal of the military's policy of expelling homosexual service members.
Beautiful Wounds is his fifth book and is being nationally distributed by The Countryman Press, an imprint of W.W. Norton & Co.
This is a FREE event with a donation basket at door.
Doors open at 6:30pm for a community social with beer and wine available for purchase. The presentation will start at 7:00pm.
A Book for All Seasons will be at this event to sell Tim's book.
All Red Barn Events are now hybrid, you may join us in person in the Red Barn or livestream virtually via Zoom.
Address: 347 Division Street, Leavenworth, WA 98826
Please click the link below to join the webinar:
https://us06web.zoom.us/j/87804170323
Or One tap mobile :
US: +12532158782,,87804170323# or +16699006833,,87804170323#
Or Telephone:
Dial(for higher quality, dial a number based on your current location):
US: +1 253 215 8782 or +1 669 900 6833 or +1 346 248 7799 or +1 669 444 9171 or +1 929 205 6099 or +1 301 715 8592 or +1 312 626 6799 or +1 386 347 5053 or +1 564 217 2000 or +1 646 931 3860
Webinar ID: 878 0417 0323
International numbers available: https://us06web.zoom.us/u/kdZF7ltcjS