Spring Camp / Campamento de Primavera: May 3 & 5 (Grades K-3)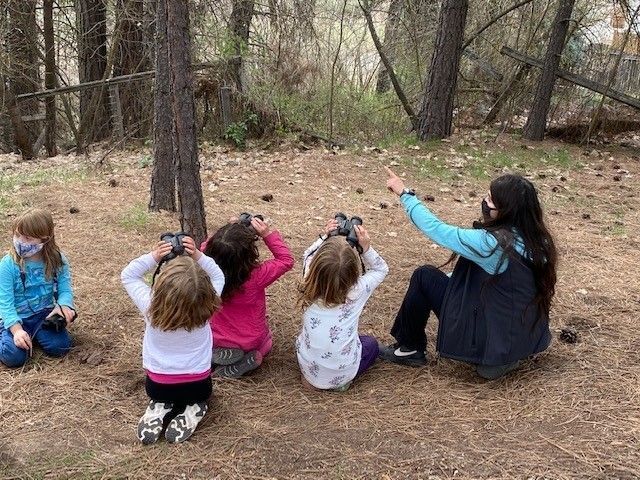 Spring Camp: May 3 & 5 (Grades K-3)
12:00pm-5:00pm
What:
Join small groups of campers and Wenatchee River Institute staff for camp! We will spend our afternoons outdoors, exploring Wenatchee River Institute and the surrounding park, leading us through forested habitats, along the river, and through grassy meadows. Participants will investigate and learn about the world around us, play fun games, and do art activities.
If your camper needs to be in live school sessions during camp time, we can accommodate that.
Cost:
PAY WHAT YOU CAN. We know that COVID has had a financial impact on many families, and we hope this makes camps as affordable as possible to all families. It is our hope that some families will have the ability to pay a little more to offset the costs for families who are struggling financially. When you register, there is a box to type in the amount you can pay.
How to Register:
Register for each week you'd like to attend. Registration for each week is found on the first listed day of camp for the week.
Safety Precautions:
Increased social distancing and hygiene will be put in place. Camp will take place primarily outdoors, and campers and staff will wear masks.
[Español]
Qué:
¡Únase a pequeños grupos de campistas y al personal del Wenatchee River Institute para un campamento! Pasaremos nuestras tardes al aire libre, explorando, guiándonos a través de hábitats boscosos, a lo largo del río y a través de prados cubiertos de hierba.
Costo:
PAGUE LO QUE PUEDA. Sabemos que COVID ha tenido un impacto financiero en muchas familias y esperamos que esto haga que los campamentos sean lo más asequibles posible para todas las familias. Cuando se registre, hay un cuadro para escribir la cantidad que puede pagar.
Cómo registrarse:
Regístrese para cada semana a la que le gustaría asistir. La inscripción para cada semana se encuentra en el primer día de campamento de la semana indicada.
Precauciones de seguridad:
Se implantará un mayor distanciamiento social y se pondrá en práctica la higiene. El campamento se llevará a cabo principalmente al aire libre y los campistas y el personal usarán máscaras.