GO BEYOND THE WALLS OF YOUR CLASSROOM
Currently, due to COVID-19, we are not offering in-person programming. However, we are offering other 1st- 5th grade resources that count toward your instructional time with students that are aligned with Next Generation Science Standards (NGSS). We are offering 30-minute synchronous virtual field trips conducted at or near our center in Leavenworth in addition to an at home activity and an extension activity based on a NGSS. Visit the For Teachers page to learn more about our Virtual Learning resources. Please contact Deanna Butcher at dbutcher@wenatcheeriverinstitute.org for more details and to schedule your virtual field trip. 
Wenatchee River Institute Field Days provide a mix of science, exploration, and discovery to connect youth with nature. Our curriculum aligns with Next Generation Science Standards, putting science tools in the hands of students while providing fun and experiential education in the outdoors. Field Days typically run five hours, 9am-2pm, with a 30-minute lunch.
---
Field Day Options
Choose from our time-tested seasonal field day options or customize your program to meet students' emergent interests and needs.  Printable version of WRI Field Day Options.
---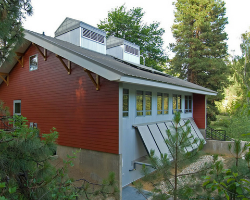 OUR CAMPUS
Field Days take place at Wenatchee River Institute, 347 Division St, Leavenworth, WA. This 9-acre property is adjacent to miles of forested riverfront trails, all of which act as our outdoor classroom.
---
Inquire Today
To learn more about WRI Field Days including scheduling, cost, and scholarship
opportunities complete our WRI Field Day Inquiry Form below or contact us at 
programs@wenatcheeriverinstitute.org ~ 509.548.0181