Amber Wray Watercolor Workshop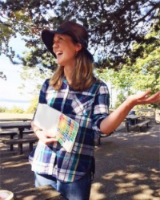 Local watercolor artist will be leading a 2 half-day workshop along the beautiful Wenatchee River on Barn Beach Reserve! Amber Wray has been in the Wenatchee Valley for a few years, spending a lot of her free time outside, noticing the nuances surrounding her in the natural world. Amber has a true knack for teaching water coloring to all ages, whether she be teaching for WRI's art after school program, leading an all women's water color experience or at her new job at Wenatchee Valley Community College. We are lucky to have her partner with us for this workshop!
Cost: $80 for non-members, $68 for members
No experience necessary!
Ticket is for BOTH July 2nd and 3rd, 9am-12pm each day
Limit of 13 participants.
Day one will include an orientation to the different materials and techniques used when water coloring. Day two will be spent outside, near the river, using those techniques to create your own magnificent piece.
Some materials provided.
Materials to be brought by you:
-140 lb. watercolor paper
-watercolors
-brushes
Make sure to wear clothing appropriate for the weather of the days! Small snacks and beverages will be available at the beginning of the class, bring some extras for the rest of the time. If you would not like to sit on the ground while we are outside painting, please bring yourself a comfortable and portable seat.