Walking the Wild Side: The Nature of Nature Writing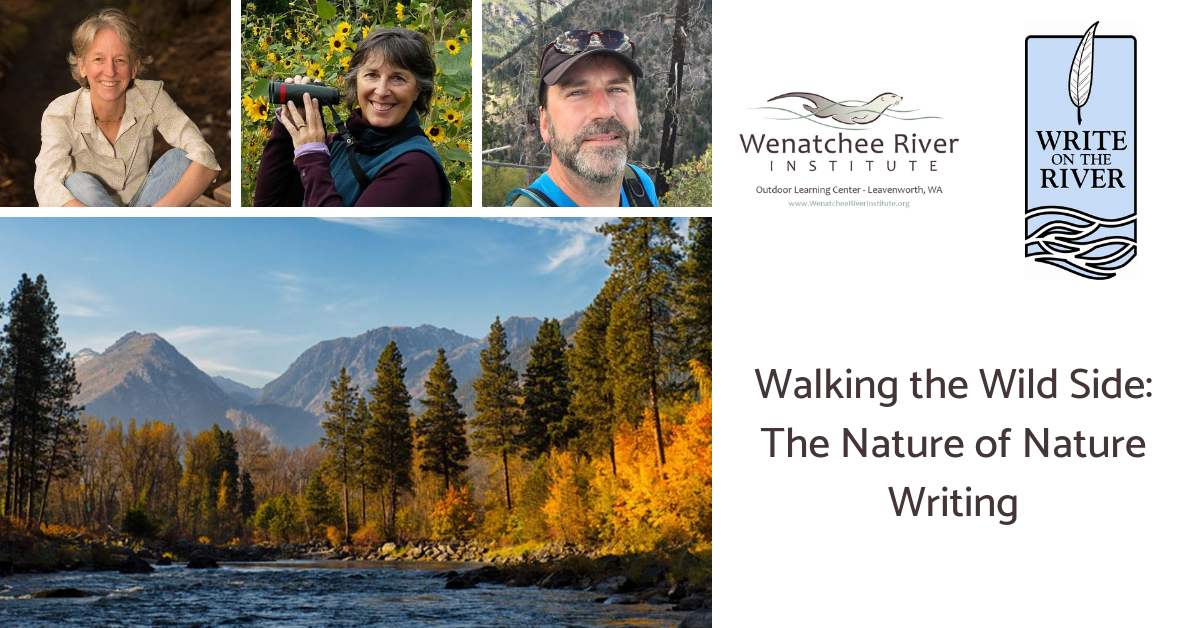 Take a walk with writing in mind and find a world of inspiration!
On Sat., Oct. 12th, 8:30am-4:30pm, WRI and Write on the River will bring together three North Central Washington writers in one workshop, Walking the Wild Side, The Nature of Nature Writing: Ana Maria Spagna of Stehkin, Heather A. Wallis Murphy of Leavenworth, and Derek Sheffield also of Leavenworth. Each writer offers unique perspectives on observing, recording, and sharing words inspired by the natural world.
The workshop will be held on WRI's Barn Beach Reserve property and along the banks of the Wenatchee River. The morning hours offer presentations and writing prompts from Spagna, Wallis Murphy, and Sheffield, with afternoon field writing. The workshop will conclude with readings by participants and guest writers.
"By the end of the day, the workshop will have enriched peoples' understanding of their own words and of the wild surrounding them," explained Wallis Murphy.
Ana Maria Spagna is an award winning author of seven books including, Uplake: Restless Essays of Coming and Going, Potluck and Now Go Home, with her work recognized by the Society of Environmental Journalists, the Naurilus Book Awards, The Pacific Northwest Booksellers Awards, and the Washington State Book Award. After working on backcountry trail crews for the National Park and U.S. Forest Services, Spagna turned to teaching and writing full-time.
Spagna will guide participants through Writing for Change: In an era of mounting ecological challenges, many environmental writers feel an urgency to make a difference, to write for change. What exactly is meant by this phrase and how can familiar pitfalls, such as being too didactic or preaching to the choir, be avoided? This session proposes that effective writing for change should also be about change, with techniques for bearing witness to a changing planet.
Heather A. Wallis Murphy, a US Forest Service wildlife biologist for 30-years, now retired, has served as an artist in residence, consults and leads workshops locally and in Europe. A watercolorist and nature writer, she donates 10% of the proceeds from her businesses, Walleye Cards and Wildtales Journals, to conservation and arts organizations.
Wallis Murphy will give writers A Sense of Place, with specific journaling exercises using all five senses, developing intimate connections between people and the land they love. During a sense of place, observation skills will be honed with opportunity to become a part of the silence, immersing oneself in nature journaling. Through Field Study Techniques, Writing the Senses and Sense of Place Color Squares, the meaning of words will be deepened.
"Sense of place is a mindfulness thing, where we will write about colors and shapes, sounds and smells, touch and taste. And it's fun!" said Wallis Murphy.
Derek Sheffield's award-winning poetry has appeared in many literary journals and anthologies. Sheffield is a print and on-line poetry editor, and Washington Book Award finalist. He has received fellowships from Artist Trust and the Sustainable Arts Foundation. Derek lives in Leavenworth and teaches poetry and ecological writing at Wenatchee Valley College.
Sheffield will teach about Writing Wildly, reconnecting creatively through prose and poetry with the more-than-human world while in an age of screen-time and nature deficit disorder. He will help writers see the wildness thriving beyond walls and windows, and the many different ways prose and poetry help expand this awareness.
Cost for full-day workshop with picnic lunch is $70. Members of WRI or Writers On The River pay only $60.
Attendance is limited to 45, so register soon!