Wood Burning: A Nature Scene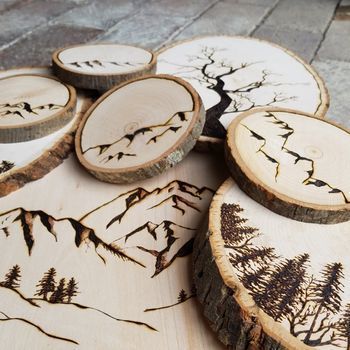 This workshop is all about having fun while you learn a new skill. Adventure into your own creativity while you learn the basics of wood burning. You'll be instructed and encouraged in a low-stress environment where there are no mistakes.
Here's what you'll learn:
- How to choose, and use your wood burning tool
- How to choose and prepare your wood
- Design and composition basics
- Transfer techniques (so you can use the optional template provided)
- Wood burning techniques
- How to add color
- How to choose a finish
Choose between 3 different ticket options:
NOT AVAILABLE Option 1 - $85: Includes everything you need to complete your project:
- Walnut Hollow Wood Burning Tool
- 4.5 – 5 inch Aspen Round
- Scrap wood to practice on
- Sawtooth hanging bracket
- Fine grit sandpaper
- Washi tape
- Graphite paper
- Design template (optional)
NOT AVAILABLE Option 2 - $70: Includes everything above except the Wood Burning Tool
Option 3 - DIY - $35: Instruction only - I will email to you a list of supplies, and instructions on how to get your wood ready to burn!
Sales for option 1 and 2 close April 13th, so we can get your kits to you in time.
In addition to the items listed in the kit, you will also want to have the following items available:
- Pencil
- Eraser
- Small long nose pliers
- Small heat proof dish
About the Instructor: Crystal Bailar of Mosstangle Arts is an artist and pyrographer who teaches wood burning to empower others to be courageous and expand the boundaries of their own creativity. She firmly believes that adventure is a mindset that can be cultivated whenever and wherever you are. She loves being outside and has been hiking all over the west coast and Alaska since she was a small child. She brings her love for the outdoors to her art and instruction.