Bird Fest Keynote: The Wonderful Adaptations of Birds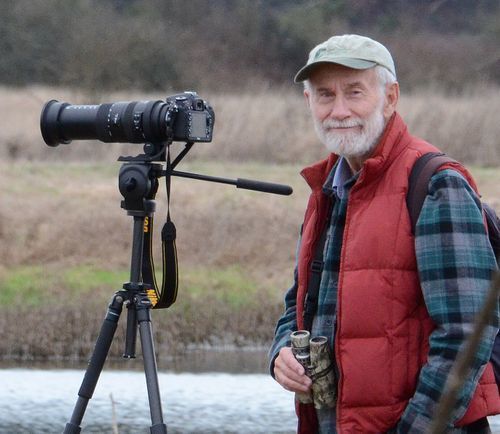 We all admire birds because they are colorful and active, they can fly (envy as well as admiration!), and we see them around us all the time, unlike many other kinds of animals. But have you thought about all the different ways they can be birds? They live in almost all of Earth's habitats. Their feeding habits are infinitely variable. The same is true of their breeding habits, although every one of them indeed lays eggs. And the ways they get around on land, sea and air are as varied as the birds themselves. Dennis Paulson is excited about showing you some of these different ways of life and the adaptations that make them possible.
Dennis Paulson grew up in Miami, exposed to subtropical nature in all its glory while southern Florida was still largely unspoiled. He received his Ph.D. in Zoology from the University of Miami in 1966 with a study of the dragonflies of southern Florida, and shortly thereafter he moved to Seattle, where he has lived ever since. He retired as the Director of the Slater Museum of Natural History at the University of Puget Sound, where he also taught in the Biology Department. Dennis has taught at three universities and continues to teach adult-education courses in many venues. He has also led nature tours and traveled on his own to all continents, and he has studied and photographed dragonflies and birds worldwide and published over 75 scientific papers on his favorite animals. He is an avid nature photographer, with many photos published in magazines, books and interpretive displays.
Dennis's published books include "Dragonflies and Damselflies of The West;" "Dragonflies and Damselflies of the East;" "Dragonflies & Damselflies: A Natural History;" "Shorebirds of North America: The Photographic Guide;" "Shorebirds of the Pacific Northwest;" "Exotic Birds;" and "Alaska: The Ecotravellers' Wildlife Guide." Beyond these interests, he is a well-rounded naturalist with a broad knowledge of plants and animals of the world.
This event will be presented virtually via Zoom. No need to register. Link will be posted here closer to the event.