Don't Let it Loose! A Red Barn Event about Aquatic Invasive Species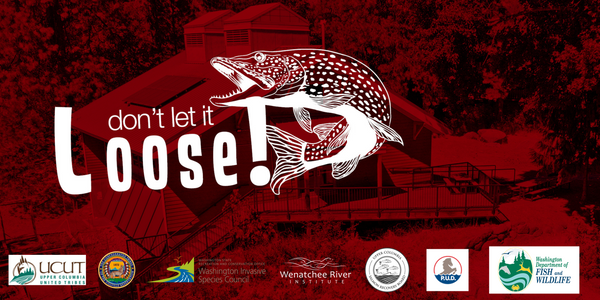 Protect our waters from aquatic invasive species! Northern Pike are highly invasive ambush predators that pose a serious risk to the survival of our native salmon species. For example, surveys of invasive Northern Pike in the Box Canyon Reservoir found that native salmon species accounted for 70% of the Northern Pike's diet. In addition to posing an ecological threat, Northern Pike pose an economic one as well. Should this invasive fish become established the economic losses of fishing industries could total up to 12 million dollars.
However, Northern Pike are not the only aquatic invasive species that threaten our waters. Join Upper Columbia United Tribes, Colville Confederated Tribes, Chelan PUD, Upper Columbia Salmon Recovery Board, WA Department of Fish and Wildlife, and the WA Invasive Species Council at the Wenatchee River Institute for an evening of learning and fun. Learn how Northern Pike became a problem, why Washington is so concerned about invasive mussels, and most importantly what you can do to help! We will begin the evening with a background and informational session on aquatic invasive species, then transition to a more informal approach where everyone can explore the various educational booths and equipment. For example:
• Colville Confederated Tribes will be showcasing their sampling boat. This boat heads out to the waters to catch pike. They will also share about the bounty for pike heads!
• Washington Department of Fish and Wildlife will have their new Clean, Drain, Dry and Dispose trailer for removing mussels from equipment on the water on display.
• Wenatchee Valley's own Fishing Magician, Dave Graybill, will share pro tips on how to catch Northern Pike.
• "Ike" the full sized, taxidermized Northern Pike will be here for you to get up close and personal.
• There will be lots of free swag to go home with!
Participants are encouraged to register in advance to give us an idea of how many people will show up. Lastly, in keeping with current guidelines this event will take place completely outside, prepare accordingly. You can find the updated COVID guidelines here: https://coronavirus.wa.gov/information-for/you-and-your-family/life-after-vaccine/gathering-safely-once-vaccinated
Beverages will be for sale.