Red Barn Event: Spirit of Giving - Stories of Connection to the Natural World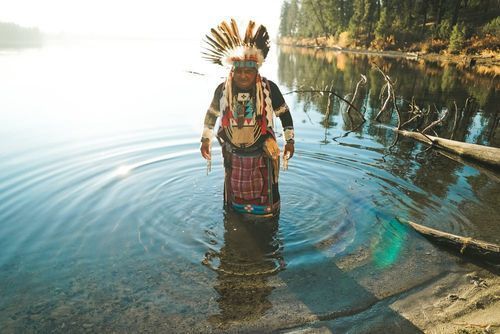 Please note different timing for this Red Barn Event: Doors open at 6:00pm for community social, presentation starts at 6:30pm and ends at 8:00pm.
Join us in the Red Barn with Dan Namankin - k?oup lus enim k"la (Thunder and Lighting), a member of the Colville Confederated Tribes. Dan will bring his gift of sharing in the forms of song, story, performance art and humor. He writes and performs his own songs and will share a few holiday songs to uplift your day and make it very special and unique. Come join us in the spirit of sharing, caring, and giving with peace and unity as a community, connecting through culture.
Dan will have his two dogs with him in the barn. They are a part of his presentation.
We will be selling raffle tickets for items that Dan is bringing. This will be a fundraiser for Dan.
Since these events are now indoors in close quarters, only people who are vaccinated for COVID-19 (regardless of eligibility) may attend. We still ask that you wear a mask. Thank you for following this honor system. Windows will be open during the event (along with an air purifier operating), so please bring a layer to keep you warm.
Speaker Bio:
Five years ago Dan left behind his job as a manager/program director and instead, has followed a call with deeper meaning and purpose. He has followed his heart and dreams and the teachings of his ancestors therefore committing himself to the education for all our children on behalf of the future generations. He is a sought after inspirational speaker and Indigenous cultural educator who has been called nationwide and to Canada as a musician, dancer, frontline water protector, educator, actor, warrior and person of prayer.
He is seen in numerous documentaries about Standing Rock as well as TV news, books and music videos, music festival stages, TED X and an upcoming feature film. He has traveled far and wide to learn about humanity, health, healing and happiness from communities, cultures and ceremonies across the nation so he could share these experiences here with the communities and children right at home and soon write a book that very well could become a movie or of educational/historical significance.
His joy for life is encouraging to all colors and walks of life. His commitment to his tribal homelands, and our connections to each other and all life are carefully contained in the stories, songs and dances he shares with great passion and respect. We all have a very important role to play in life right here and now and here is an opportunity to listen to an idea of how to build stronger community and human relationship upon the land in which we all live.